https://mamc-saint–etienne-fr.translate.goog/fr/expositions/house-dust?_x_tr_sl=fr&_x_tr_tl=en&_x_tr_hl=en&_x_tr_pto=sc
The House of Dust
Women's collections (1960-2020)
datesFrom November 19, 2022 to April 10, 2023
VenueMA
MC+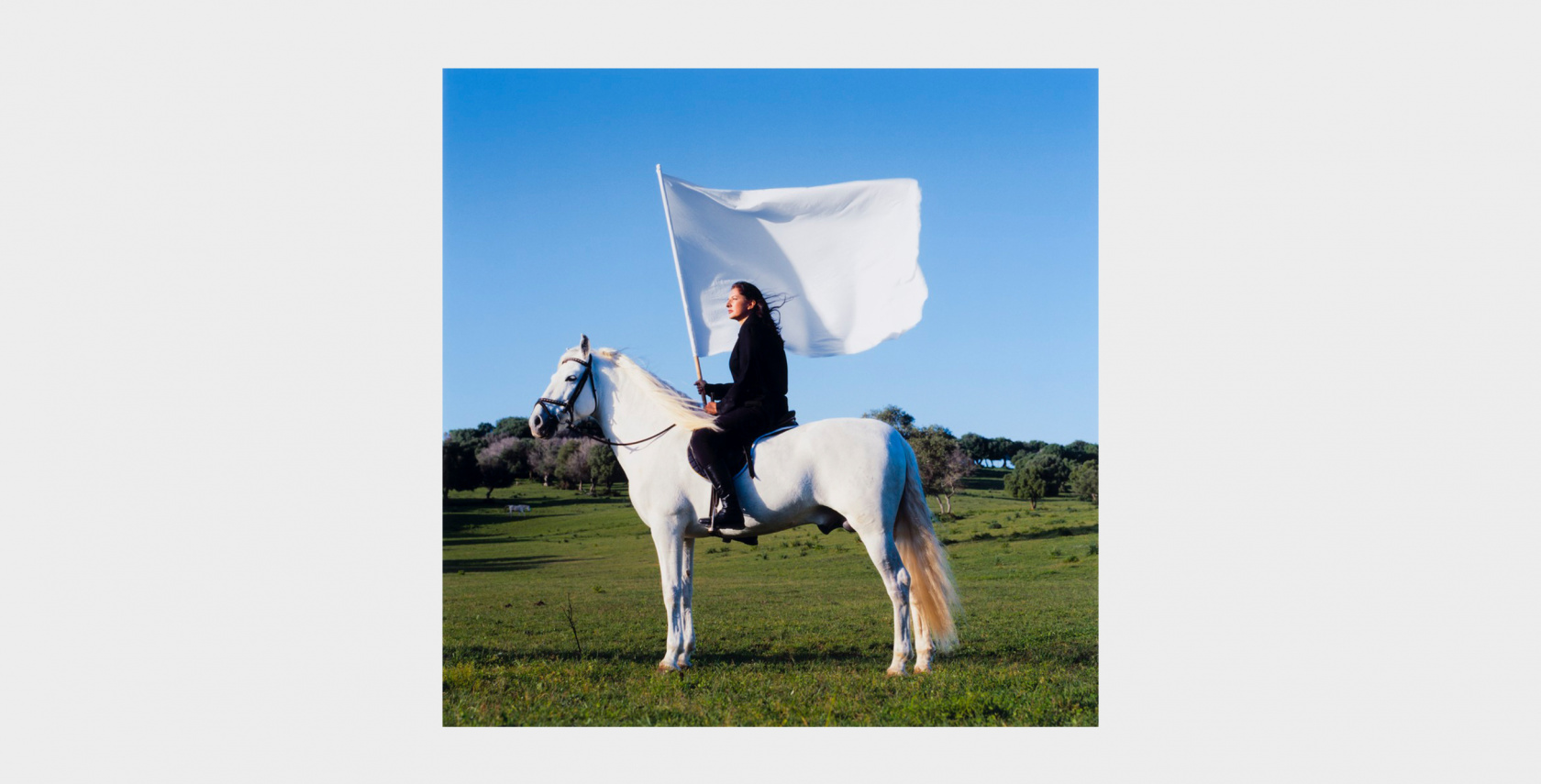 Marina Abramovic, "The Hero", 2001
© Courtesy of the Marina Abramovic Archives/© Adagp, Paris 2022
Sixty years of female creation in a journey combining generations, nationalities and disciplines
Echoing its programming attentive to female artists, the MAMC+ is offering a new display of collections aimed at improving the visibility of female creation, which represents only around 4% of its 20,000 works.
This exhibition borrows its title from a key work by Alison Knowles recently acquired by the Museum. American visual artist and poetess, co-founder of the Fluxus movement, Alison Knowles created The House of Dust in 1967 , a multimedia installation operating on the model of a performance, a reference work which constitutes one of the very first computer poems of art history. It stands at the crossroads of IT innovation, conceptual art — through its administrative aesthetics — and Fluxus.
The exhibition brings together some forty artists within a journey that intertwines generations (from the 1960s to today), nationalities and disciplines. The project benefits from a partnership with the Center National des Arts Plastiques, which is providing the loan of some fifty works for the occasion, the majority of which will join the Museum's collection on deposit.
If this exhibition is based on the criterion of gender, it does not claim to essentialize female creation in art, but rather seeks to pursue the inclusive policy of the establishment, the rereading of its history and the discovery of its unknown or newly acquired funds. . This all-female journey, bringing together more than 130 works — paintings, installations, photographs, design, etc. — thus explores three main themes illustrating common and recurring concerns among these contemporary creators: language, body and matter.
---
Guided tours of the exhibition (from 15 years old) :
Wednesdays, Saturdays and Sundays: 4 p.m.
School holidays (from Friday 16 December to Tuesday 3 January): Monday and Thursday: 2.30 p.m.
Featured Artists
( In bold: the works of these artists belong to the collections of the CNAP – National Center for Plastic Arts – and are on loan to the MAMC+):
Magdalena Abakanowicz , Marina Abramović, Laurie Anderson, Eleanor Antin, Geneviève Asse, Anna-Eva Bergman, Louise Bourgeois, Lisetta Carmi,  Sarah Charlesworth , Marieta Chirulescu,  Marinette Cueco , Sari Dienes , Thea Djordjadze, Nathalie Du Pasquier , Gloria Friedmann, Shirley Goldfarb , Nan Goldin, Jan Groover, Guerrilla Girls, Sheila Hicks , Jenny Holzer, Dorothy Ianonne, Kimsooja, Karen Knorr, Alison Knowles, Barbara Kruger, Laura Lamiel , Helen Levitt, Annette Messager, Tania Mouraud, Gina Pane , Sheila Reid, Takako Saito , Valentine Schlegel, Cindy Sherman, Kiki Smith, Jessica Stockholder, Nathalie Talec, Tatiana Trouvé, Jackie Winsor
Office

Alexandre Quoi
Head of the MAMC+ scientific department
Catalog
A publication will be published in the "Collection of collections" series which promotes different collections highlighted in the context of the annual MAMC+ exhibitions.
MUSEUM COLLECTIONS & CNAP LOANS
CO-PRODUCTION WITH
MEDIA PARTNERS