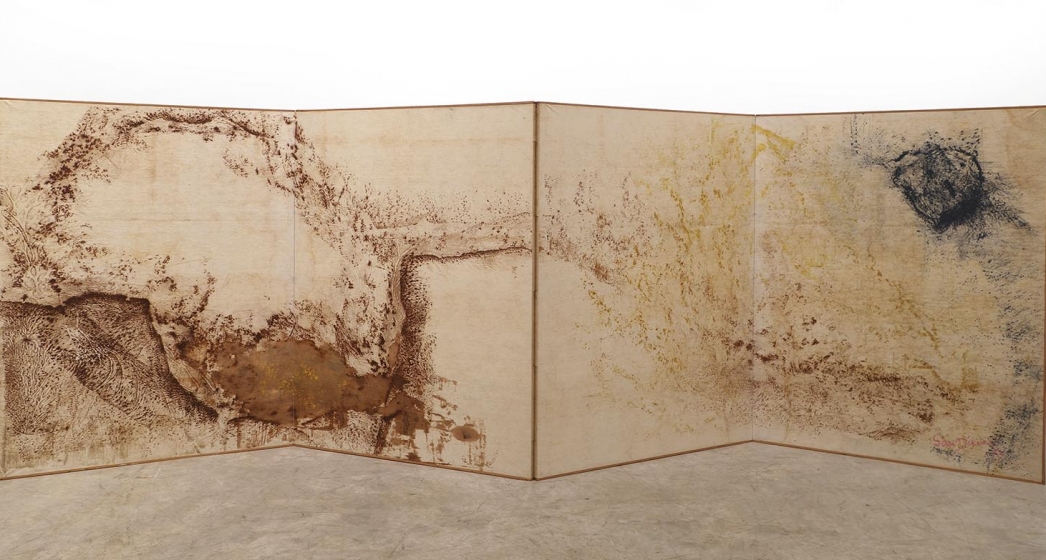 ADAA: The Art Show, 2017, booth D20
March 1 – March 5, 2017
Central Park, c. 1954 by Sari Dienes
Frottage on Webril mounted to four-panel screen
38 1/2 x 120 inches
March 1-5, 2017
Park Avenue Armory
Park Avenue at 67th Street
New York City
Hours
Wednesday-Friday: 12 to 8pm
Saturday: 12 to 7pm
Sunday: 12 to 5pm
For The Art Show 2017, Pavel Zoubok Gallery is presenting important works by Sari Dienes (1898-1992), Addie Herder (1920-2009) and Stella Snead (1910-2006), three fiercely independent artists whose distinctive creative paths overlapped in the storied Sherwood Studios during the 1950s and 1960s. Our installation will focus on SARI DIENES' shift from painting and drawing to frottage, or "rubbing," a process of layering urban and natural textures including manhole covers and sidewalks into proto-Pop icons and all-over abstractions. Upon taking up residency in 1945, Dienes met and began a lifelong friendship with composer John Cage and choreographer Merce Cunningham. She quickly established herself in the epicenter of the art world during the 1950s, influencing artists such as Robert Rauschenberg, Jasper Johns, Mark Rothko and Ray Johnson. Dienes was born in Debreczen, Hungary in 1898. From 1928-1935, she moved to Paris and then London where she studied with Fernand Léger, Amédée Ozenfant, André Lhote and Henry Moore. In 1939, Dienes relocated to New York where she would remain until her death.
While many of her contemporaries were filling enormous canvases with the barest of pictorial adornment, ADDIE HERDER went her own way, creating complex facades and "machines" in spaces often no larger than a postcard. Herder used all manner of ephemera to create miniature architectural structures with a theatrical sense of atmosphere and depth. Reflected in the dark, shadowy interiors of her paper constructions is a mechanistic sensibility that underlies much of her work from the 1950s and 1960s, a period that began in New York City at the Sherwood Studios and continued on the streets of Paris. Trained at the Tyler School in Philadelphia during the late 1930s, Herder moved to New York in 1946 with her then-husband. The two opened a successful commercial design business in a large studio in the Sherwood building, where Herder also met and befriended fellow artists Sari Dienes and STELLA SNEAD.
Snead's decision to become a painter during the mid-1930s marked the beginning of a long love affair with places unknown, both real and imagined. While studying in her native London with Ozenfant, Snead became captivated by Surrealism's fantastic imagery. There she worked alongside fellow artists Leonora Carrington and Sari Dienes. She fled Europe in November of 1939 and divided her first decade in this country between New York and Taos, New Mexico. It was her travels across the American West and Southwest that are most clearly reflected in her paintings and drawings from that period. By the 1950s, a severe bout of depression and a timely invitation to India set Snead on a decidedly new course as a photographer. She would eventually shift her second home from Taos to Bombay, where she would return to Surrealism in a series of fantastical photo-collages and photomontages during the 1960s and 1970s.
http://pavelzoubok.com/exhibition/adaa-2017/pressrelease/